When something's wrong in the human body, there's not always a quick fix. Many people suffer from back pain - in fact, 31 million Americans are experiencing pain in their lower back at any given time. But when they seek treatment, they often find temporary relief from symptoms when what they want is long-term healing.
Patients who suffer from the chronic pain associated with bulging, degenerating, or herniated discs may benefit from treatment using a spinal decompression table. This type of pain, which can manifest as back or neck pain itself as well as associated pain in the arms and legs, may have already been treated by traditional traction methods or even by spinal surgery to limited improvement. In these cases, a spinal decompression table that uses computerized sensors to perform stretching actions on the spine and promote healing can be uniquely effective.
But what is a spinal decompression table, and how it can be used to treat patients who have not been able to find relief in other ways?
What is Spinal Decompression Therapy?
Spinal decompression therapy, also known as non-surgical spinal decompression, is a practice that utilizes spinal decompression tables to relieve pain by creating a scenario in which painful disc tissue is able to move back into place and heal, alleviating the pain this condition causes.
Spinal decompression therapy aims to help patients who suffer from debilitating pain due to bulging, degenerating, or herniated discs. It can also be used for the pain management and treatment of many causes of sciatica, injured or diseased spinal nerve roots, and worn spinal joints.
The therapy itself works to stretch the spine, using a decompression table or other device, in order to create negative pressure and space for the disc fluid to move back into place. The ultimate goal of spinal decompression is to relieve the patient's chronic back, arm, neck, and/or leg pain, and to heal the source of said pain.
Spinal decompression therapy is also referred to as non-surgical decompression therapy since it is often used as a safe, affordable, and extremely effective alternative to spinal surgery. The most common spinal decompression surgeries are laminectomy and microdisectomy, which present a greater risk of complication or failure.
What is a Spinal Decompression Table?
A spinal decompression table is the main tool used in non-surgical spinal decompression therapy. There are two main types of spinal decompression tables: one with cable and pulley systems that create pull on the patient's body, and decompression tables consists of an upper and lower body portion that move independently from one another. The latter type of table is much more effective at preventing muscle guarding, and is what we recommend for the best patient outcomes.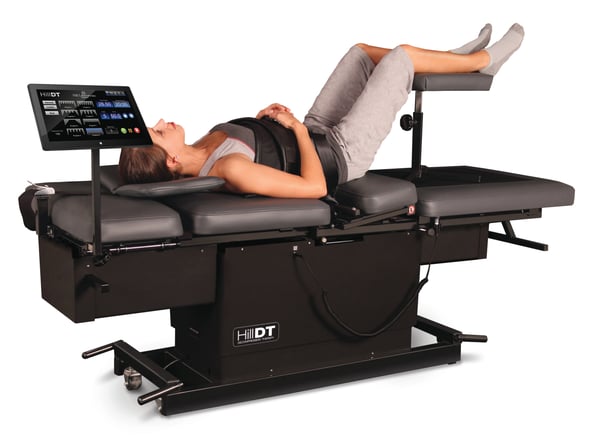 Patients are strapped to the table using a harness, with other props such as pillows used to keep the patient comfortable and the spine in the correct position for decompression. Once the patient is in place, the table program is enacted and the two parts of the table begin to pull apart from one another. The poundage of the pull depends on the type of decompression as well as the physicality of the patient and can range anywhere from just 5 pounds for a cervical decompression protocol to 100 pounds or more for lumbar decompression on a larger patient.
The difference between spinal decompression tables and other methods of decompression like inversion is the technology involved. The best spinal decompression tables include sensors that indicate whether a patient's muscles are resisting the stretch being applied by the table. As the muscles resist, the table reduces the poundage of the pull until the muscles relax, then begins to pull again. By taking resistance into account, a decompression table is able to more effectively relieve pressure in the spine and ultimately provide relief.